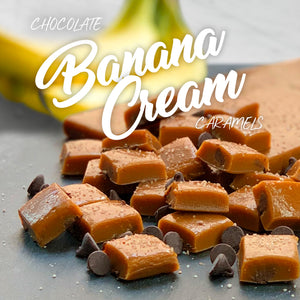 Just like that delicious banana cream pie you're obsessed with, these banana cream caramels are incredibly special.  Our small batch, hand-made caramel is infused with fresh ripened banana essence, natural vanilla, and then finished with rich dark chocolate that literally melts in your mouth with each bite.

OLD FASHIONED HAND CRAFTED QUALITY

 

– Chewyz caramels are kettle cooked in small batches from a century old recipe. Grandma's were so good, we didn't change them.

SIMPLE, PREMIUM NATURAL INGREDIENTS – We use real butter, fresh heavy cream, and Tahitian vanilla. No high fructose corn syrup or fat fillers. We use Grandma's same recipe from 100 years ago.

NATURALLY RICH CARAMEL FLAVOR – Chewyz handmade gourmet caramels have the homemade taste and color you can only get from carefully crafting in small batches. No artificial flavors or colors added – GLUTEN FREE and KOSHER

SOFT, CREAMY, BUTTERY TEXTURE – Individually wrapped high quality caramel means a soft bite that doesn't stick to your teeth.

CARAMEL LOVERS DREAM - Any caramel lovers dream, pieces of delicious sea salt caramels made with real Tahitian Vanilla and natural flavors.