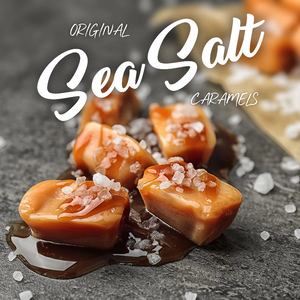 Our Original All-Natural Gourmet Sea Salt Caramels are simply the best caramels ever created. We didn't say this, our wonderful customers did. They're soft, creamy, award winning and have a 5-star rating on TrustPilot. 'Nuf said.
OLD FASHIONED CRAFT QUALITY

– Chewyz caramels are kettle cooked in small batches from a century old recipe. Grandma's were so good, we didn't change them.

SIMPLE, PREMIUM NATURAL INGREDIENTS – We use real butter, fresh heavy cream, and Tahitian vanilla. No high fructose corn syrup or fat fillers. We use Grandma's same recipe from 100 years ago.

NATURALLY RICH CARAMEL FLAVOR – Chewyz handmade gourmet caramels have the homemade taste and color you can only get from carefully crafting in small batches. No artificial flavors or colors added – GLUTEN FREE and KOSHER

SOFT, CREAMY, BUTTERY TEXTURE – Individually wrapped high quality caramel means a soft bite that doesn't stick to your teeth.

CARAMEL LOVERS DREAM - Any caramel lovers dream, pieces of delicious sea salt caramels made with real Tahitian Vanilla.